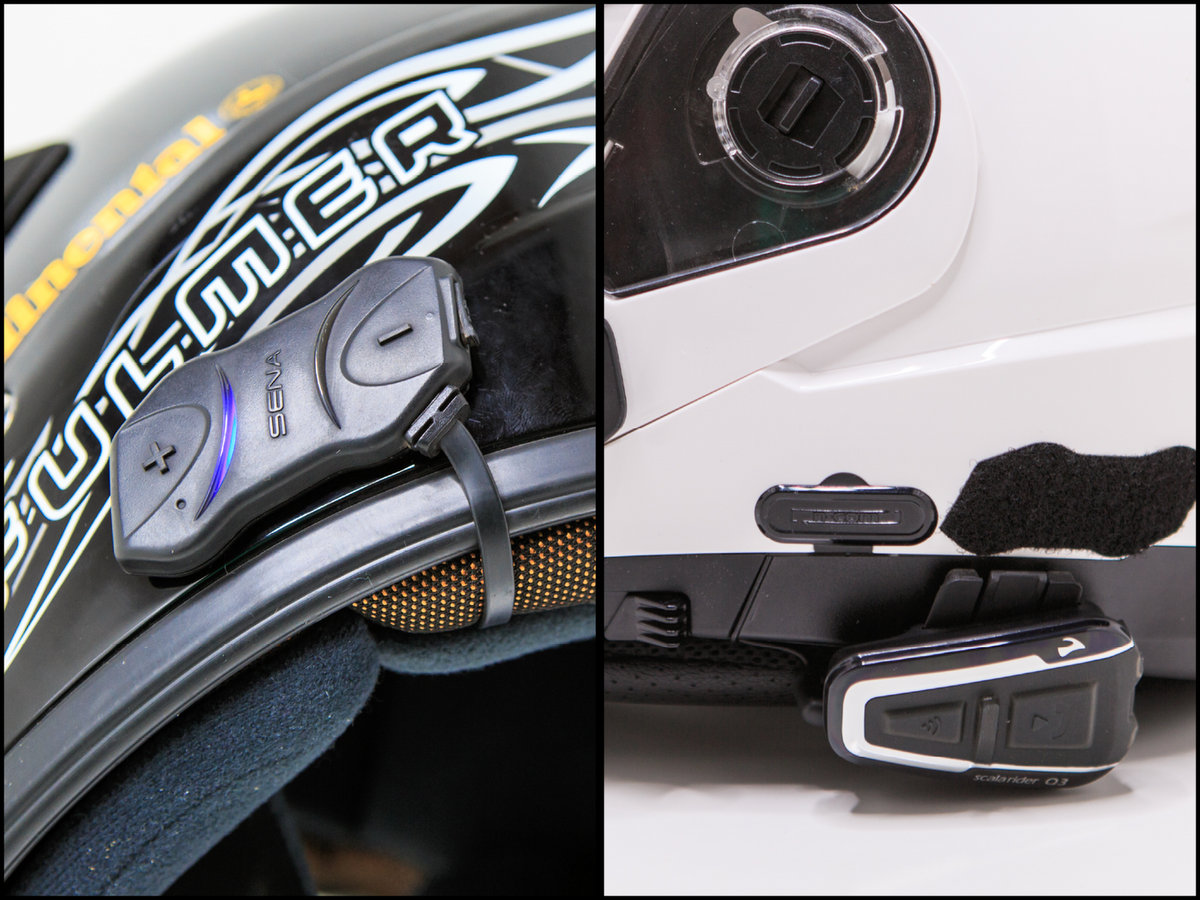 Words by Jim Vota
Photography by Kristen Vota
---
Helmet communicators. Some won't ride without them. Some won't ride with them. They can add to the comradely riders experience, while possibly interrupting that unique solitude we experience inside our helmets. If a helmet communication system is something you desire, there is a virtual cornucopia of devices to choose from. Some give you the basics of what you might need, while others can practically control satellites while cooking you breakfast.
What we want to do here is present you with two devices that sit in the mid-range category of helmet communicators, the SENA SMH10R and the Scala Q3. We are going to give you what we see as strong features, along with possible concerns. Hopefully the functionality of the devices covered here can be adopted to other devices and help you make a more informed decision when and if you decided to invest in one of these.
The SENA SMH10R
This is a Bluetooth 3.0 stereo headset. SENA entered the helmet communicator market after being support technology for the mobile phone market. As a result, they have created very reliable, Bluetooth enabled helmet communication systems. In our testing of this devices, we found it to be flawless in its Bluetooth connectivity, and was very effective when connecting to multiple devices at one time.  Additionally, it's slim design made it almost undetectable when riding and performing simple tasks, like removing our helmets. Sound quality was good and people receiving calls from us declared that the microphone was excellent, even at speed.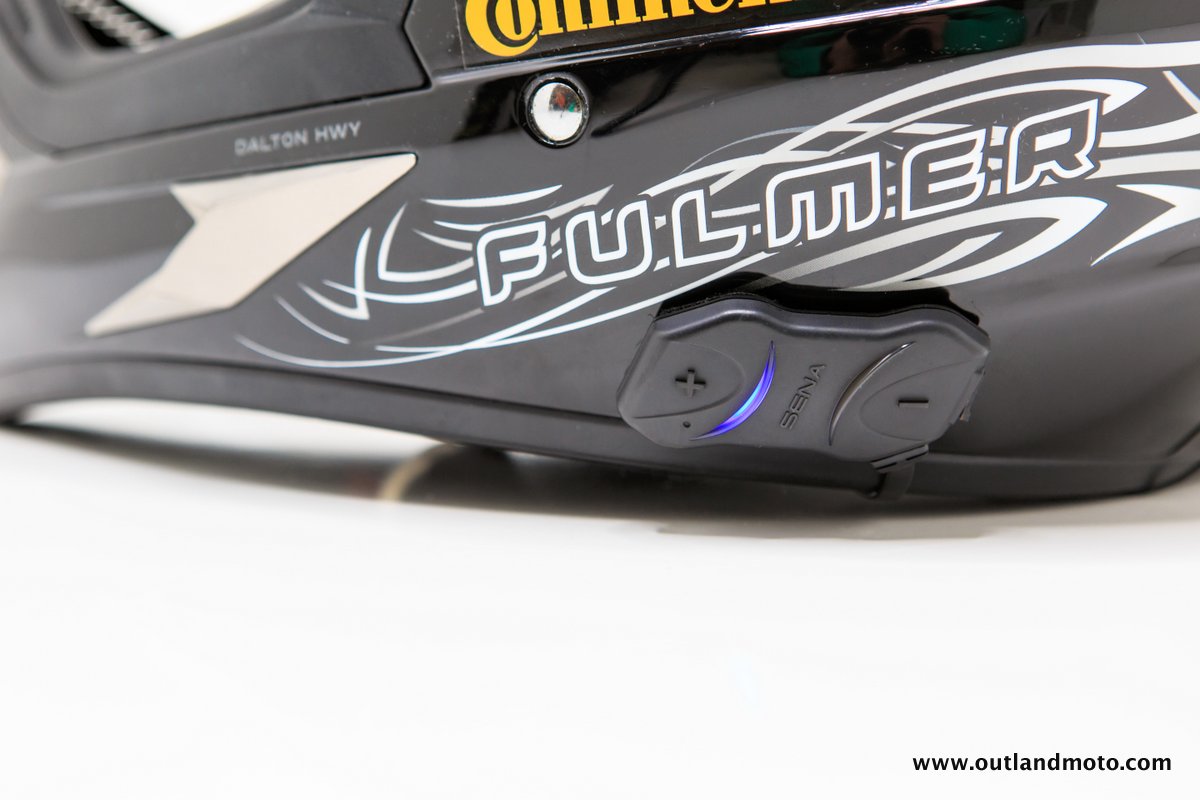 The SENA SMH10R has a sleek design that sits close to your helmet.
The SENA SMH10R is a completely Bluetooth device, meaning that it communicates with phones and media players solely through Bluetooth. This creates a totally wireless experience for the user, which we liked. It also can have two consequences, which we will get into in a bit. The SMH10R uses three buttons for all of its functionality. Device selection, volume control, phone calls both incoming and outgoing and more are all done through these buttons. This is what helps make its sleek design. But we found it also made the SMH10R somewhat difficult to use while riding.  What determines the device you will control is the amount of time you press a particular button. As you hold down a control button, beeps will occur in the speakers. A particular beep tells you which device will be controlled. We tested this device on the White Rim Trail, in Utah. Keeping our hands off the handlebars long enough proved to be difficult at times. Additionally, the indicating beeps were not always easily heard and were somewhat dependent on the amount of wind noise in the helmet.
That said, the SENA SMH10R worked flawlessly throughout our entire test. It connected with every device perfectly every time. And it connected to other SENA headsets without error. So it is no wonder that SENA is increasing in popularity as quickly as it is.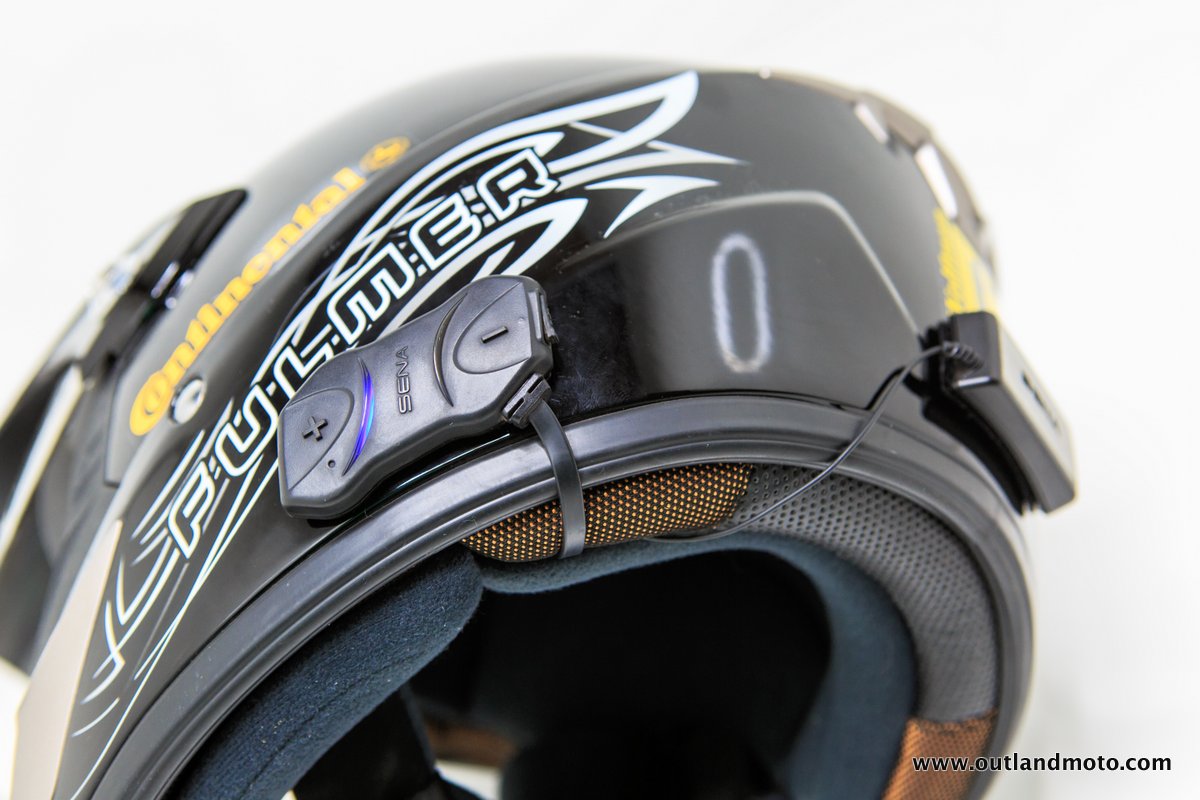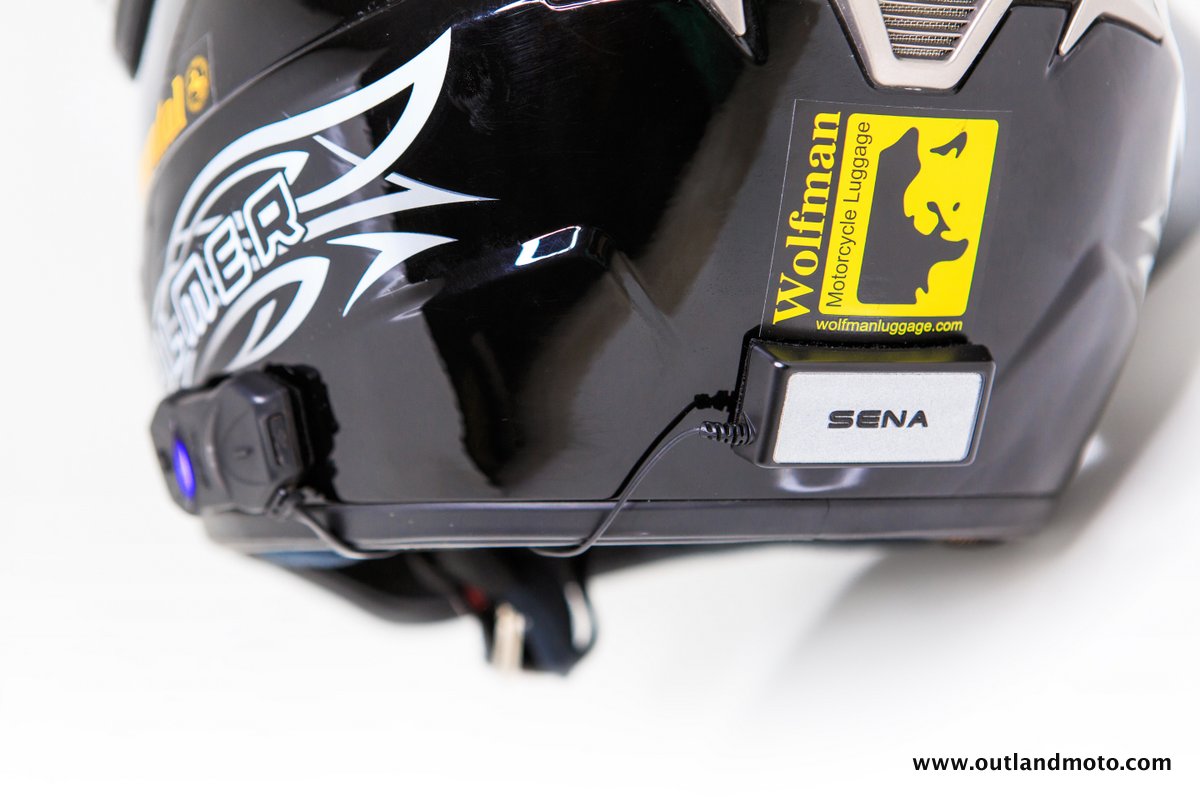 SENA had another feature that was very appealing to us. They offer an adapter that connects to a two-way radio. This allows your SMH10R to communicate with that two-way radio. This could prove very helpful if communicating with someone who is currently off their motorcycle or in a vehicle driving in your vicinity. Whether this device is worth it depends on your specific need. But we were very excited to have that option at our disposal. During our test some of our crew members were in an SUV. We were able to communicate with them without having to call them on their cell phone or pull over to have a conversation. We found this to be a very useful and fun feature to have. And we found ourselves using it even when it wasn't necessary.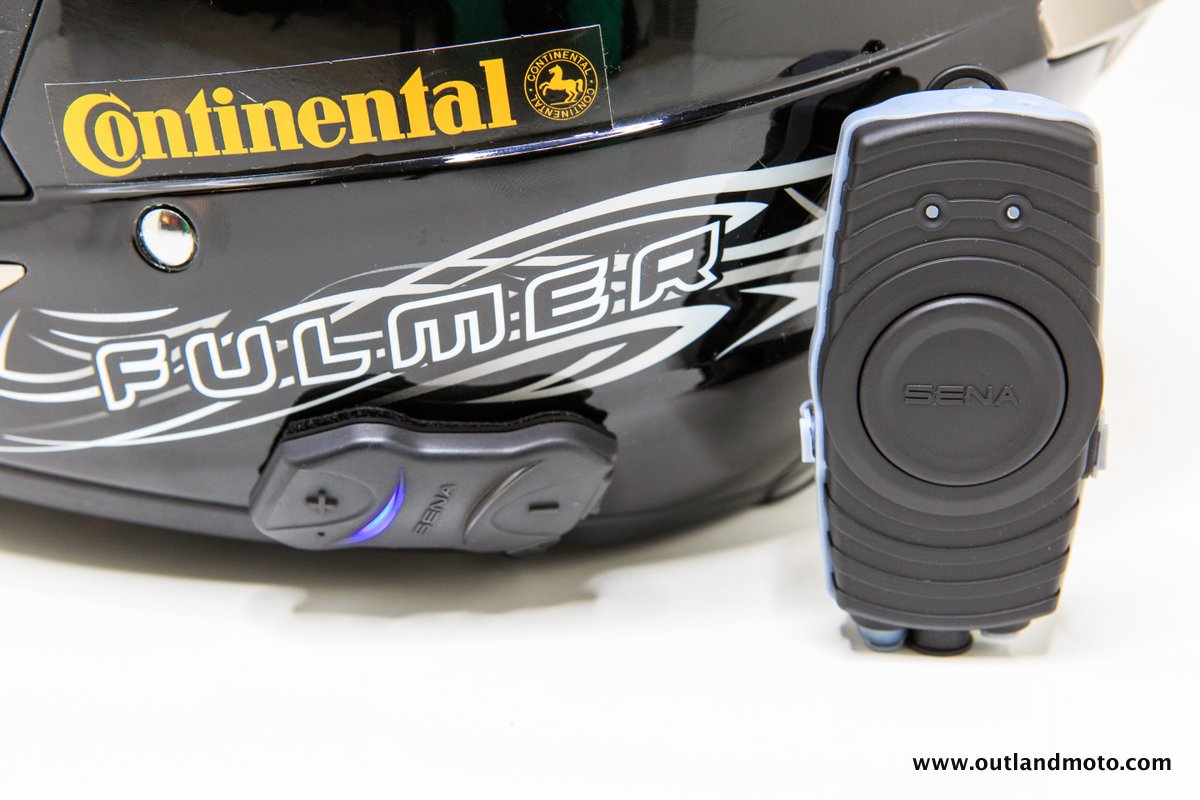 A view of the SENA SR10 Bluetooth® Two-way Radio Adapter.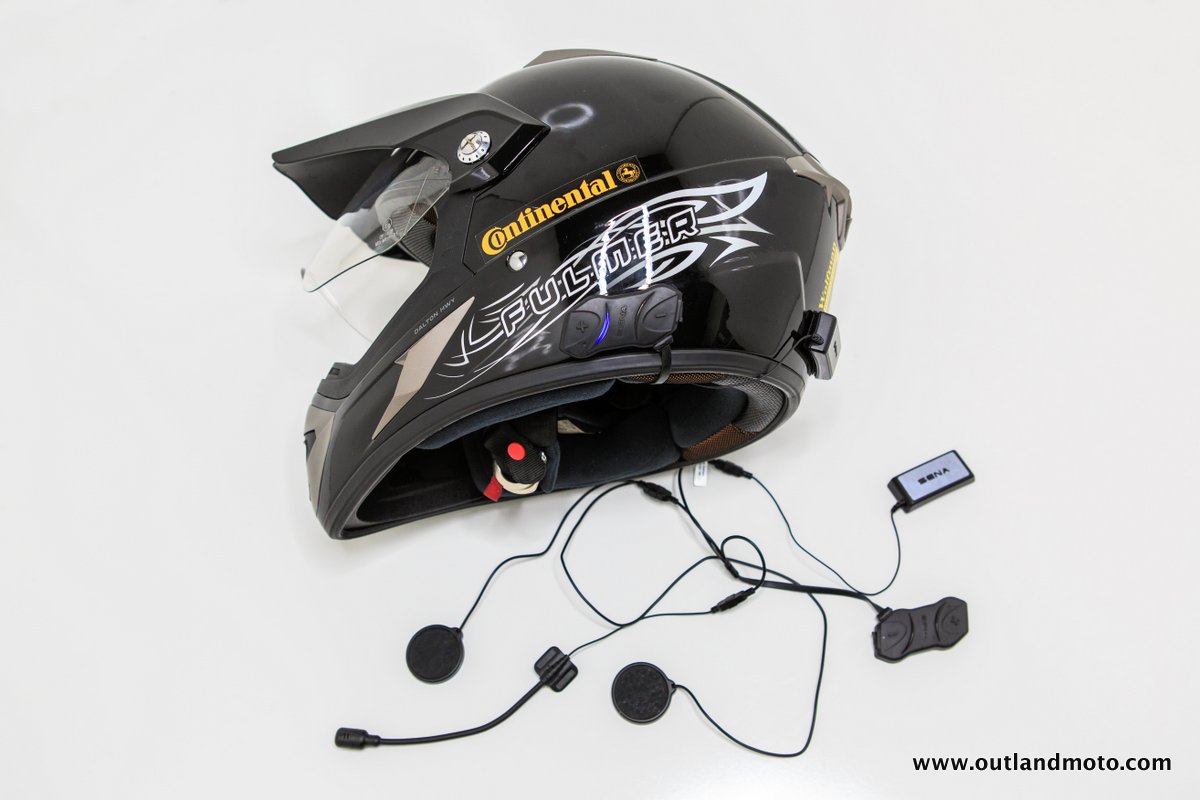 The Scala Q3
Scala has been a strong competitor in the helmet communicator business for a long time. Always driving to keep pace with current technologies, Scala has also done a good job making intuitive easy-to-access designs.  In testing the Q3, two characteristics immediately stood out: good battery life and easy to use controls. The Q3 is also Bluetooth enabled, having the ability to connect wirelessly to media players and mobile phones. Connectivity seemed to be reliable. However, we did experience periodic loss of connection to other Q3 devices. In fairness, this did not happen very often. And the Q3 reconnected very quickly.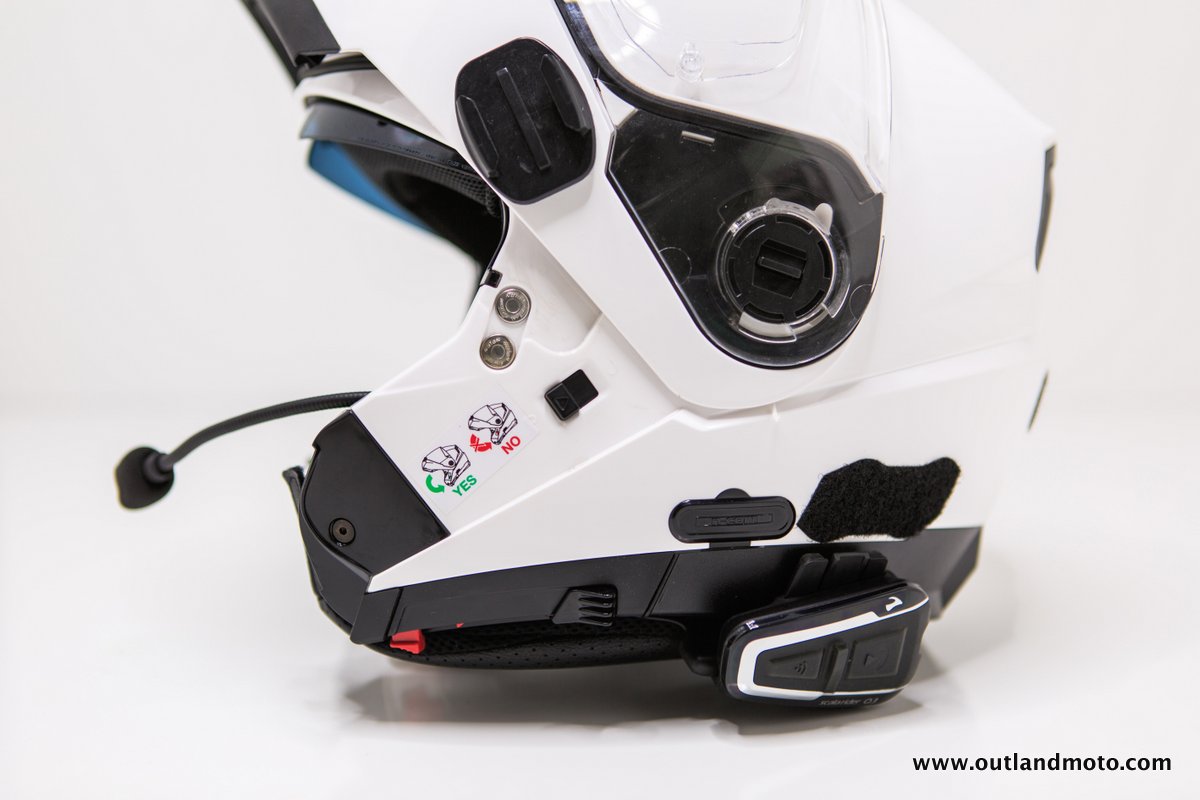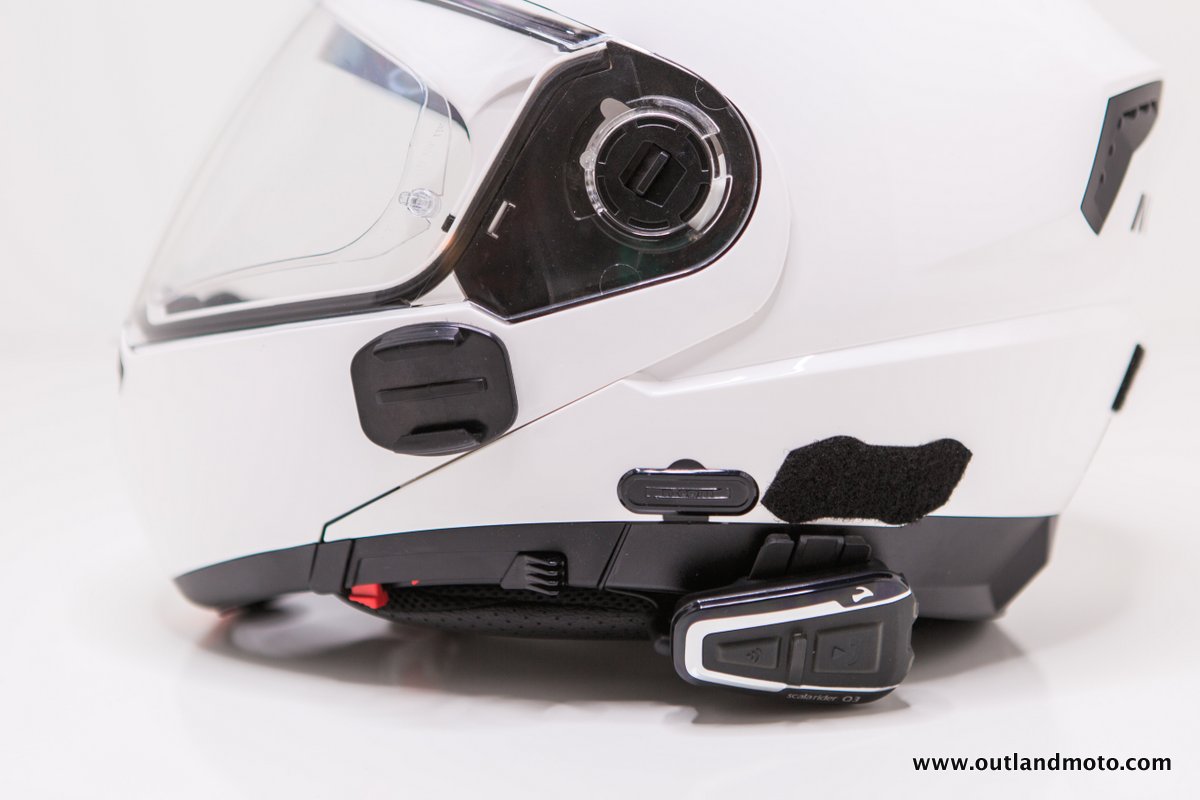 Along with Bluetooth connectivity, the Scala Q3 also has an audio jack that can connect to your mobile phone or media player. Although this tethers due to your phone or media player, we found this to be a nice option to have in an effort to save battery on the Q3 and on our mobile devices.
The Scala Q3 is significantly larger than SENA SMH10R. And it does not mount as seamlessly on the helmet. So we were a little bit more aware of the Q3's presence as opposed to the SMH10R. The bigger size, however, helped when accessing buttons on the Q3, especially when wearing gloves.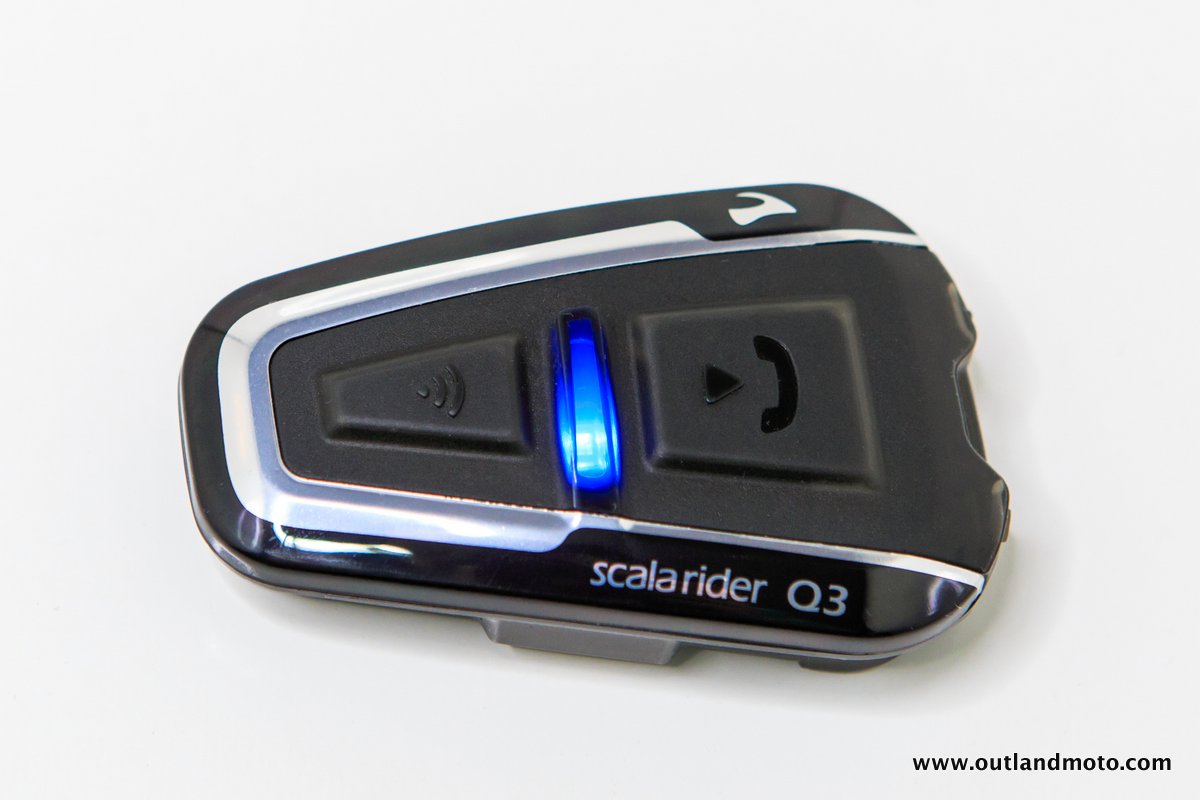 To access different devices connected to the Q3, you tap specific buttons once, twice, or three times. Personally, we liked this system. We found it a little bit easier to press a button twice than to hold it down and wait for an audible beep. For example we used the Q3 with an iPod and an iPhone. The same button controlled both devices. You press that button once to activate the iPod. You press the same button twice to activate the iPhone. This seemed to be a bit faster than the system use on the SMH10R. That said, we must be clear that we are talking about time differences of less than a second. So you can decide whether that is important to you.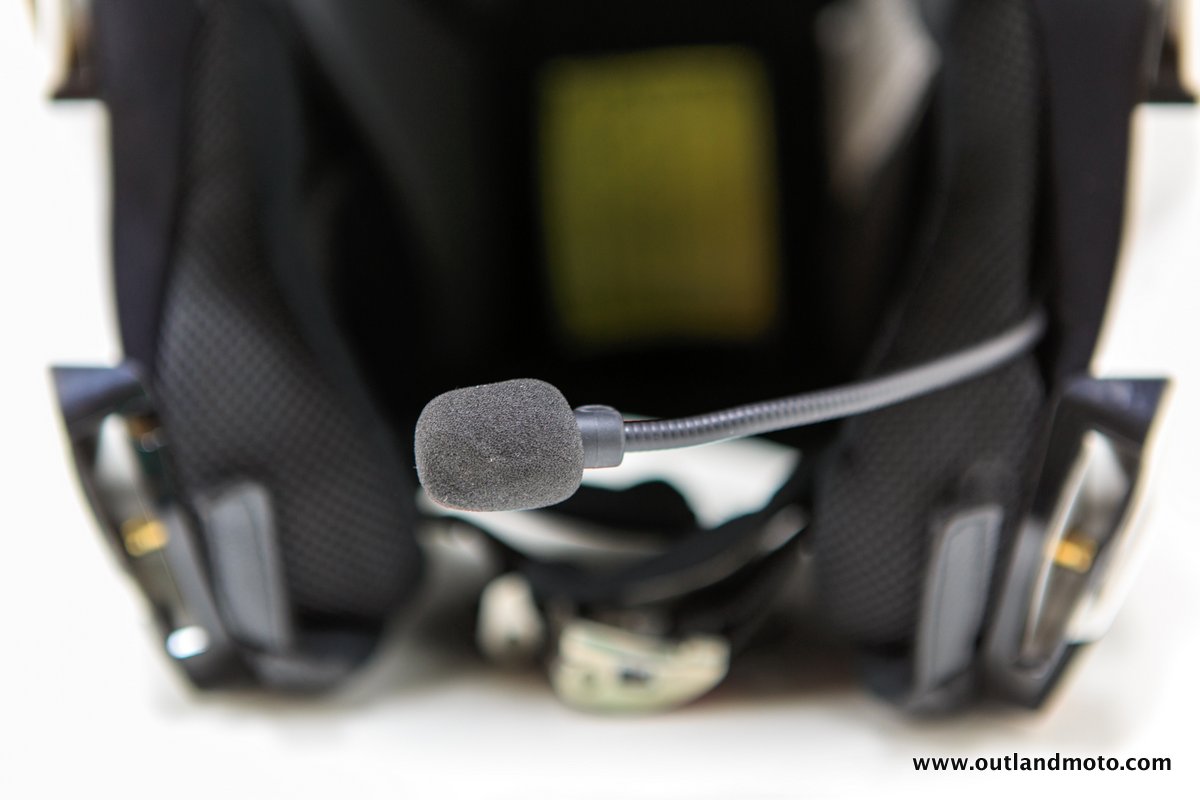 Audio quality on the Scala Q3 seemed to be competitive with the SENA SMH10R. We also liked the automatic, speed sensitive audio adjustment that comes on the Q3.  Overall, the Scala Q3 is a solid headset with reliable quality.  Priced reasonably at around $219.00 and $389.00 for the Multiset, the Scala Q3 provides the most common capabilities riders might need on the road.
Conclusion
So as you can guess, we are reluctant to tell you if one device is better than the other. To be honest, they were both wonderful. They function differently. You can decide what functionality sounds better for your needs. That said, below is a list of what we like most about each device.
SENA SMH10R:
Slim, lightweight design
Virtually flawless connectivity with Bluetooth devices and other SENA products
High quality audio and microphone
Ability to connect with many 2-way radios (with use of SENA SR10)
SCALA Q3:
Easy to use buttons, even with riding gloves on
Easy and fast usability
Multiple options for connecting to devices
Excellent battery life
~end