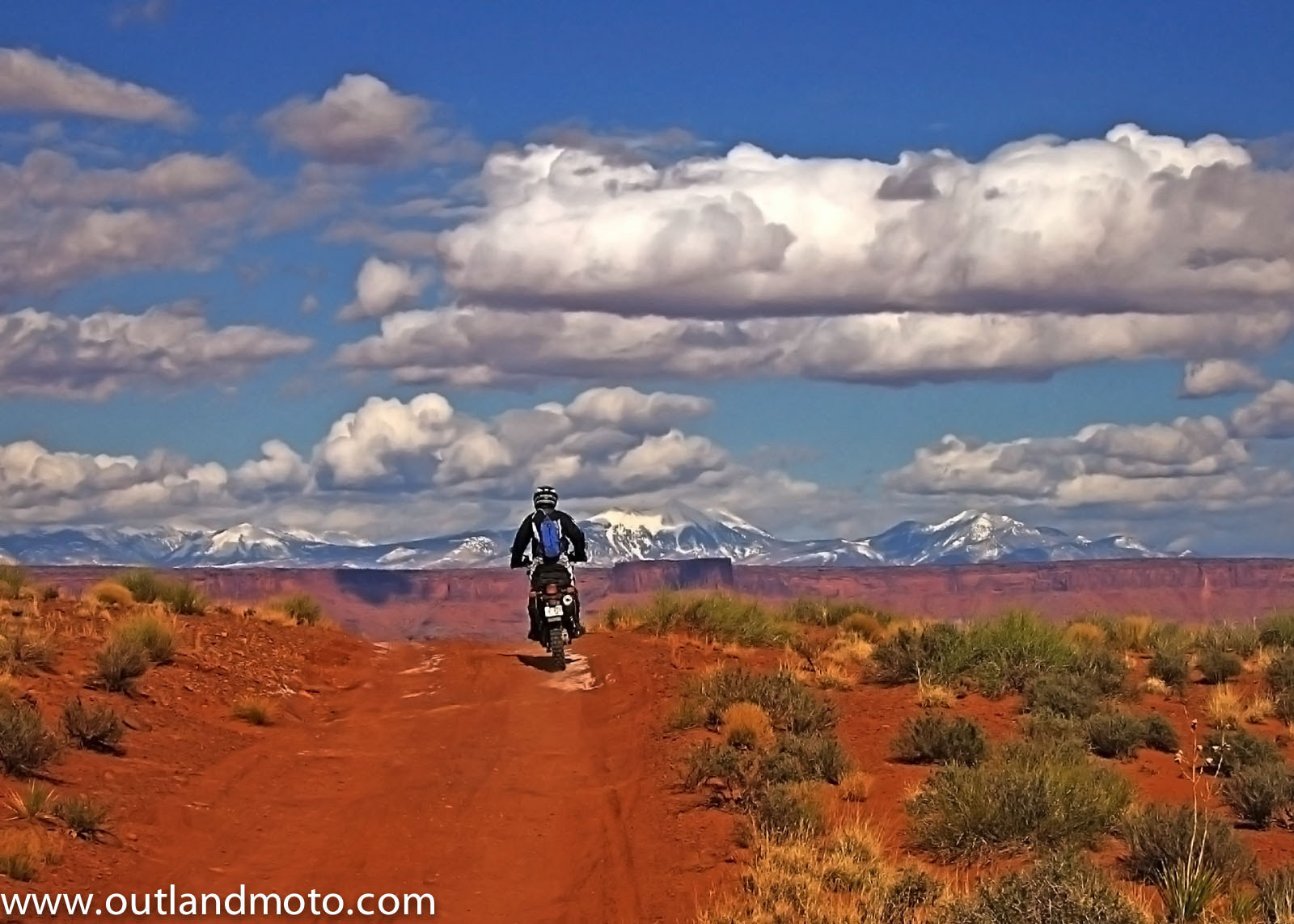 Words and Photography by Chad Berger
"May your trails be crooked, winding, lonesome, dangerous, leading to the most amazing view. May your mountains rise into and above the clouds."
~ Edward Abbey
Cabin Fever had a firm grip over us as we fought through another long Wisconsin winter.  Quotes like this one by Edward Abbey fill my head with visions of a vast desert landscape, so we decided to pack up the van and head west in search of some great riding.  After a 22-hour drive that was only briefly interrupted by gas stops and a short nap in a parking lot, we arrived in the Mecca of off-roading, Moab Utah.
We spent a few days riding various trails around Moab and watching some crazy rock crawling by the 4×4 crowd before we decided to do our biggest ride, the White Rim Trail in Canyonlands National park. The White Rim is a 100+ mile route that loops through a wilderness full of amazing western scenery and strange rock formations in Utah's Canyonlands "Island in the Sky" district. Whether you are a mountain biker, a Motorcyclist, or a 4-wheeler, this route is one of America's crown jewels and should be on your bucket list.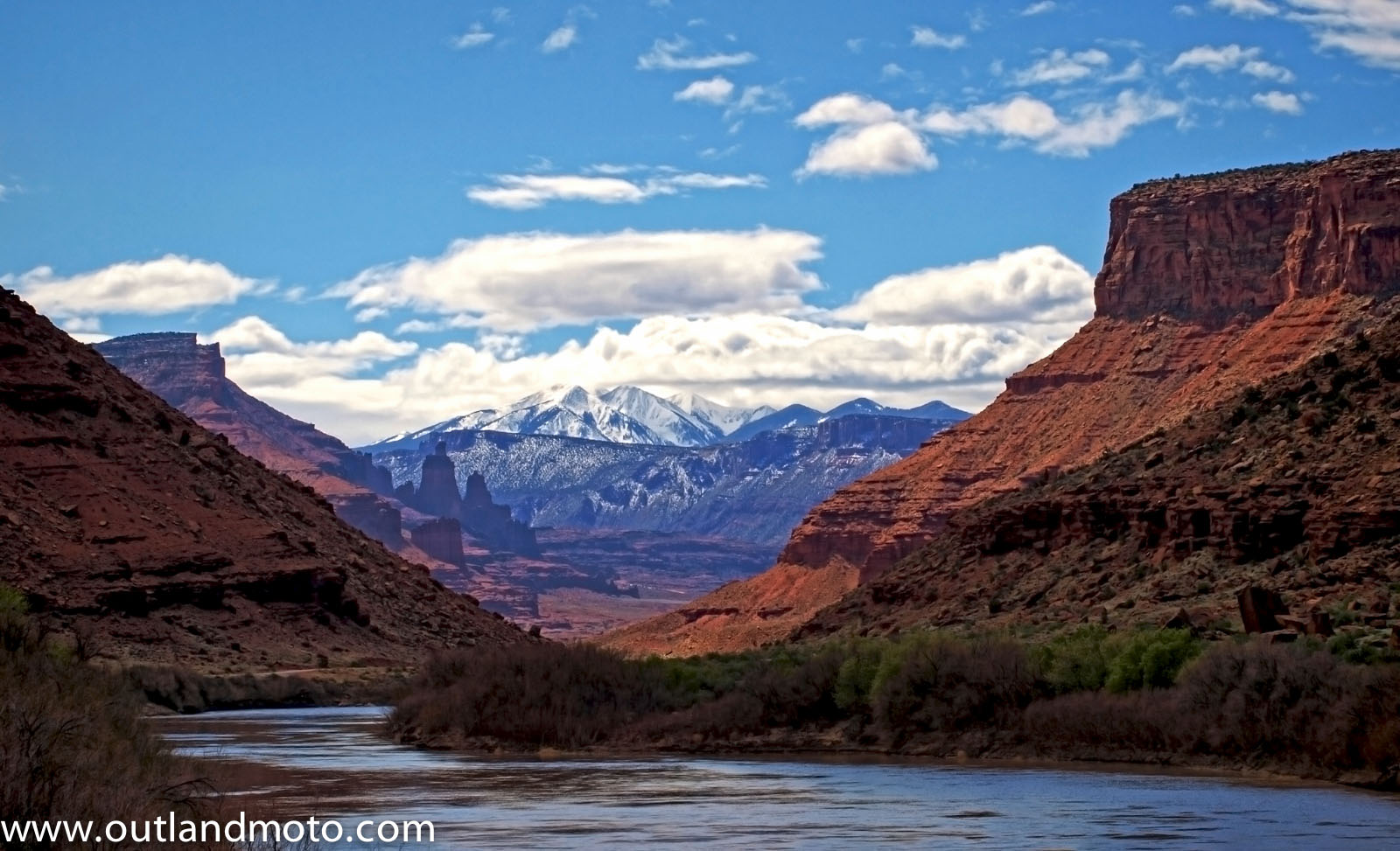 In the days prior to doing the route, we had scouted things out a bit and had ridden the amazing Schafer Trail and Potash Road, which are part of the White Rim route, but they can also be ridden on their own.  The Schafer Trail is a great introduction to the White Rim Trail. And the scenery can't be beat. I just hope you aren't too busy looking at the views since there is some serious exposure on these narrow meandering roads, as you drop 1400 feet from the top of the mesa.
We had planned on doing the White Rim Trail on Easter Sunday, but when we woke there was a light rain falling, and we knew the road could become impassible and dangerous when wet. The light rain ended, and it turned into a nice day. So even though it was getting late, we headed out under a beautiful blue sky.
Fuel would be a serious concern for one member of our group today. So we made sure we topped off our tanks in Moab before we left.  After a quick gas stop, we headed out Potash Road and then hung a right at the Jug Handle Arch parking lot, to enter the amazing Long Canyon, in our attempt to run the route counter clockwise. The road was pretty easy and the scenery was breathtaking. And soon we were going under the famous fallen rock, entering Pucker Pass. Pucker Pass can be a short difficult section depending on the conditions, but today we had no troubles.  At the top of the canyon, Nate, who was riding a KLR was experiencing some overheating issues, so we stopped and tried to diagnose the problem.  Our bikes had been in storage all winter, so we knew there would be a chance that the bikes (and our bodies) might not be in perfect shape for the abuse they were going to get this week. But everything turned out OK, and we were soon back on the trail.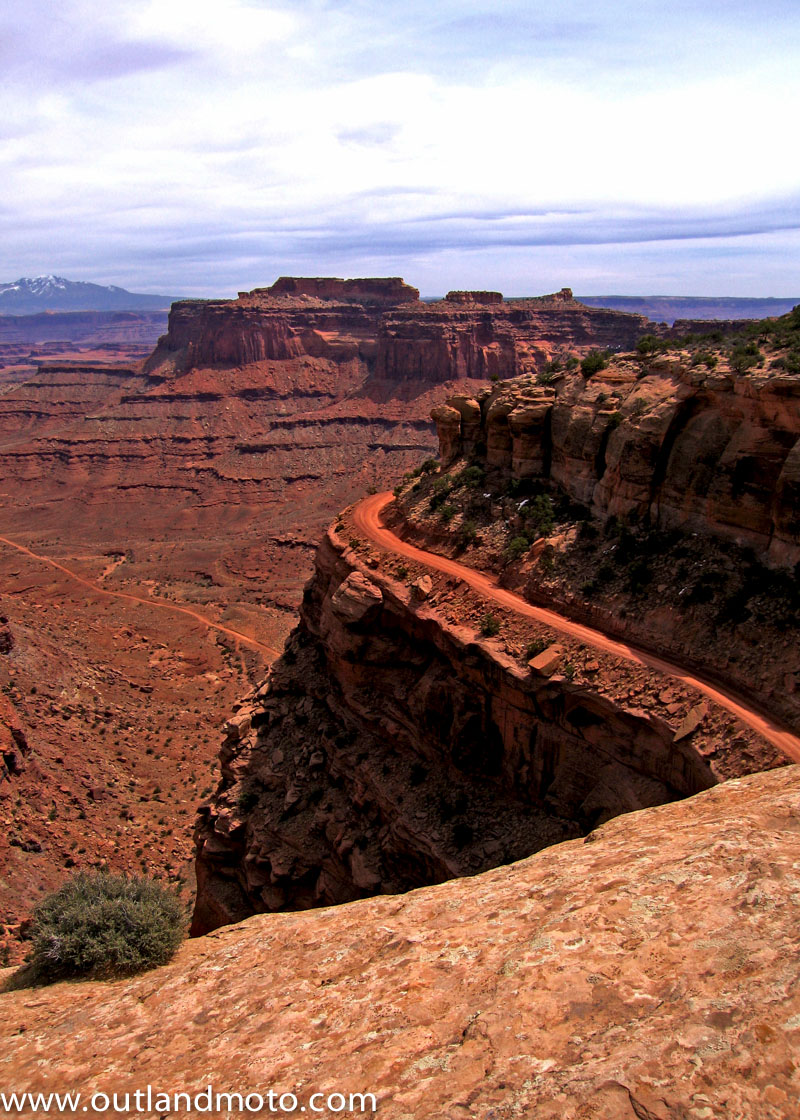 We reached the top of the mesa near Dead Horse Point State Park and made our way towards the start of the White Rim Trail.  Mineral Bottom road is a long straight, dry dirt road which turns into some amazing switchbacks as it drops down towards the Green River and enters Canyonlands National Park. The first section of the route was easy, with the exception of a few sand washes.  And the trail stays close to the Green River, until you begin your climb up Hardscrabble Hill to a high-shelf road. Hardscrabble Hill is a steep section with enough washouts and rocks to keep you on your toes. As long as you don't lose momentum you should be alright. One benefit of going counter clockwise on this route is that you get to go down a few of the challenging sections instead of having to climb the rock and ledge strewn hills.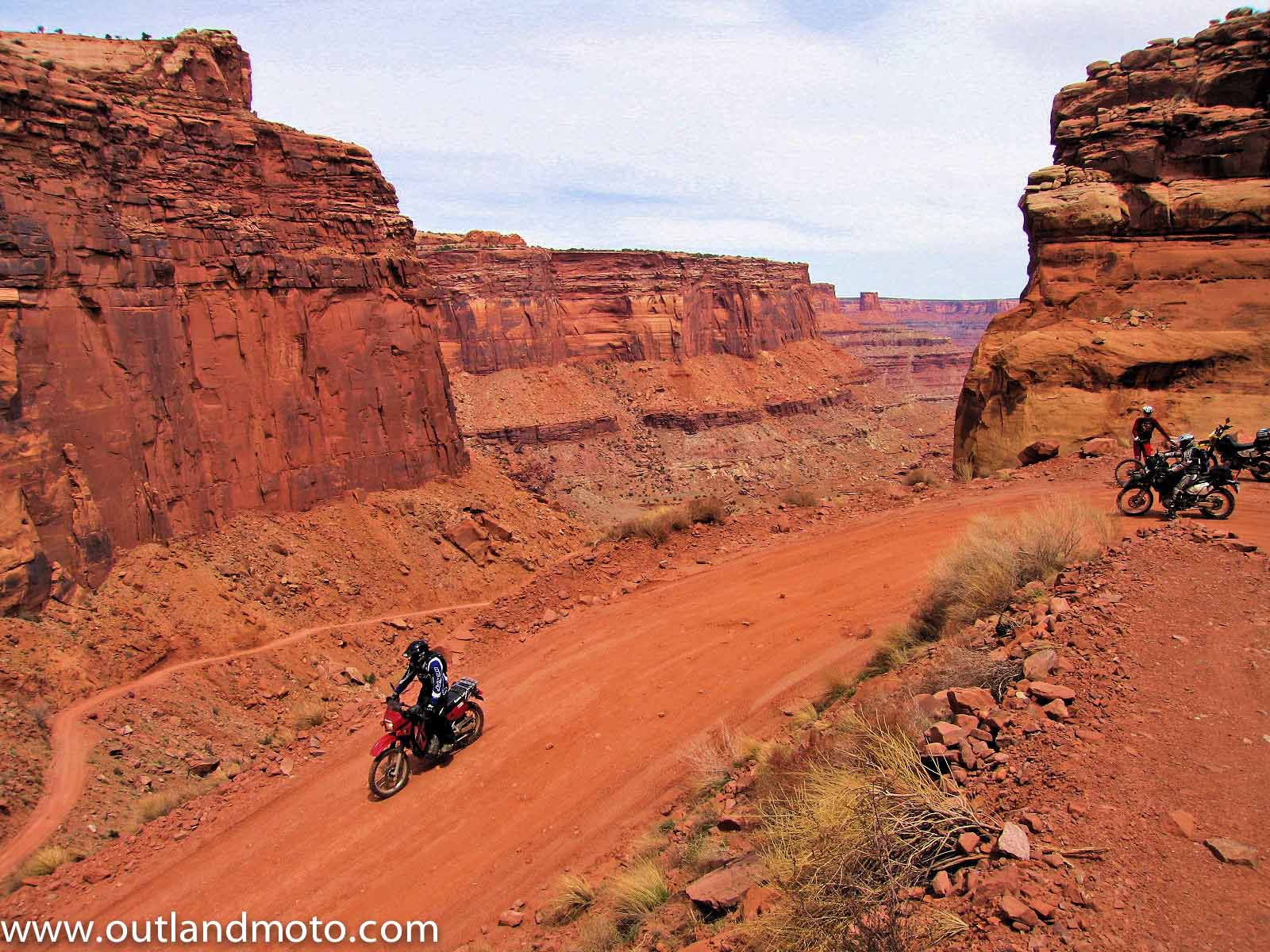 When you look at this area on a map, it may seem small, but we kept traveling on and on through this amazing desert landscape for many miles. The terrain changes from big steep hills to a long fast road that suck you in and make you think it's OK to go fast, but around every corner there is a surprise.  Sometimes you will find a washout, or it might be a sharp turn with a several hundred-foot drop just beyond it, so it is best to keep your speed down and enjoy being a visitor to this unique area.
Even though it was only April, the sun and the dry, rough terrain took a toll on me.  I had plenty of water with me, but somehow during my rush to get packed that morning, I left my bag that contained all of my snacks. We arrived at the bottom of Murphy's Hogback, one of the routes main obstacles and recharged a bit in the shade of a large boulder. We patiently waited for the hill to be free of other trail users and begin our climb up Murphy's Hogback.  Momentum is your friend, and we used it to our full advantage as we charged up the hill to make easy work of the last short crux section.  At the top of the hill, we took our first big break, getting off the bikes a bit to get some rest.  A quick look at the maps and it was easy to realize that our late start and frequent photo stops had put us behind schedule, so we quickly continued on.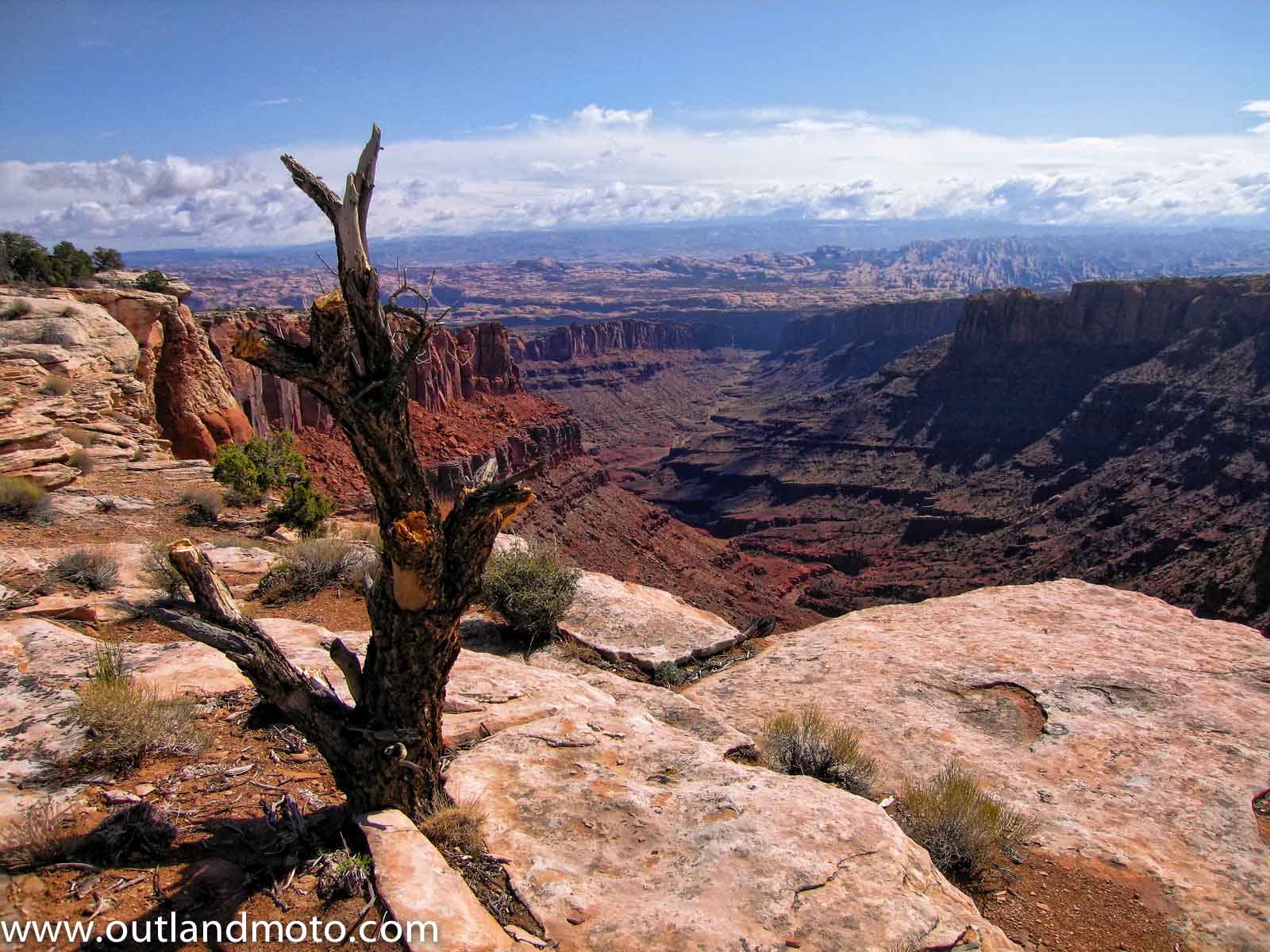 The White Rim is a very popular multi-day mountain bike route, and we were starting to get into a lot of traffic with bicyclists and their support vehicles.  We gave the mountain cyclists plenty of room and waited for them as they battled gravity and loose terrain on the many of the steep climbs.  Soon enough we were back on our own and enjoying the late afternoon sun.  We rode through rolling hills and sandy washes and rolled over many sections of bare slickrock, while huge canyons loomed a few feet off the trail.  This terrain was almost alien to us. We were having so much fun! We didin't stop again until we reached Musselman Arch.
Musselman Arch is actually a 187-foot stone bridge that is about 6-feet wide and has several hundred feet of open space under it.  It is an interesting site to see; even more fun walking across it!  My friend Bill who was riding a stock Honda XR650L was down to his last bit of gas, so we unhooked a fuel line and drained some gas out of Rogers DR650, then put it in the Honda.  Once we left the arch, it was only a short ride to where the White Rim Trail meets the Schafer Trail and Potash Road, which would take us back to Moab.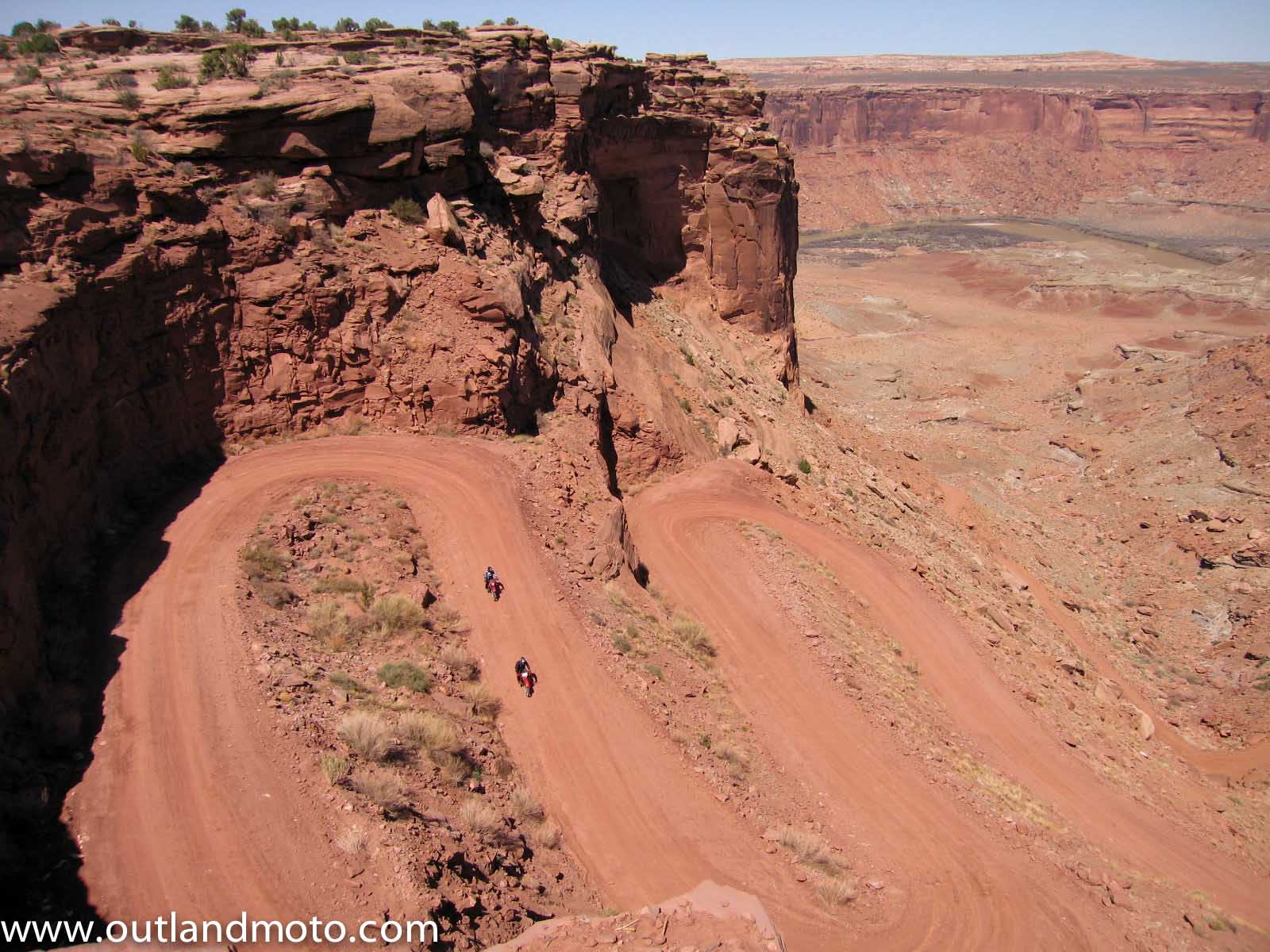 In an attempt to conserve fuel, Bill was shutting off his Honda and coasting down the hills. This technique worked great until, at the bottom of one hill, he realized that his key was no longer in the ignition.  We had to walk up and down the hill until he found the key. The sun was setting and the golden hour was upon us when we reached the evaporation ponds along Potash Road. So we knew this ride was nearly done.  We rolled into Moab and filled up our gas tanks as darkness fell upon us, then headed back to camp. The rest of the group took the highway back to camp, but I ended up taking a detour on some of the sandy ATV trails that run along the outskirts of Moab, in an attempt to keep the ride going just a few minutes longer.
The trail led right back to our camp. But somewhere before that I had to take a break and enjoy watching the last bit of sunlight climb up the shear sandstone walls. Out here I remembered another Edward Abbey quote that seemed to fit perfectly with today's ride:  "The finest quality of this stone, these plants and animals, this desert landscape is the indifference to our presence, our absence, our coming, our staying or our going. Whether we live or die is a matter of absolutely no concern to the desert."  ~end