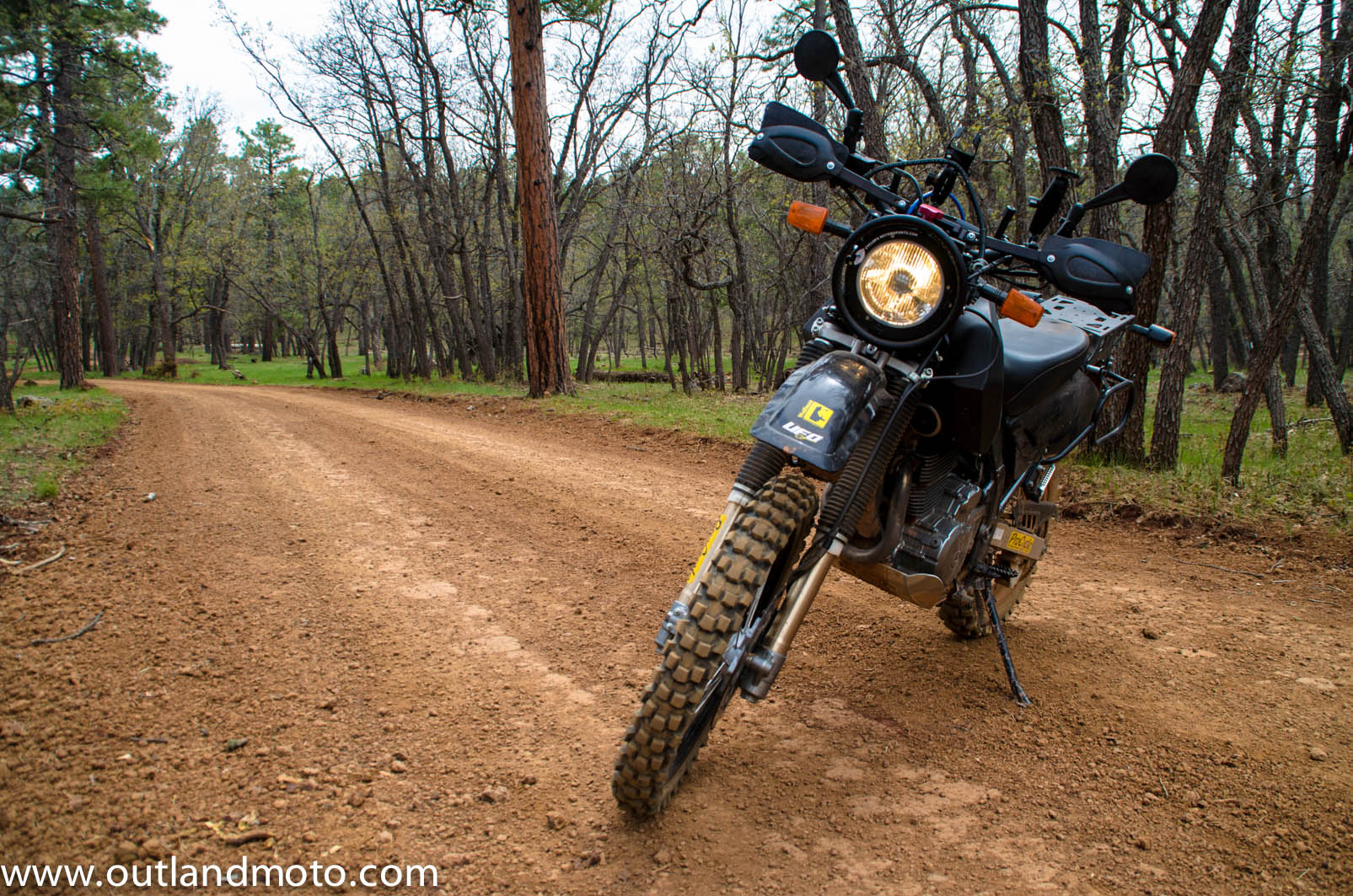 Words by Jim Vota
Photography by Dave Cook, Clare Mulholland, and Kristen Vota 
---
Have it in your garage, without needing to sell your garage!
No matter what your needs, you can bet the adventure motorcycle industry has the motorcycle for you. And accessory manufacturers have an arsenal of products you can purchase to make it truly yours. Of course, this can be done very simply when money is no object. But can you have an adventure motorcycle in your garage and still send your kids to college, or more fundamentally, buy groceries? We performed a little experiment to find out.
Our goal was to get a motorcycle and outfit it with first-class products to make it a string performer in the adventure motorcycling genre. Did we pull it off? Well, we think we did (otherwise we wouldn't be writing this article). We found that for a relatively small investment, you can have a strong, versatile adventure bike in your garage. You may need to give up a few things. And what those things will be is up to you. We gave up passenger comfort and wind protection. We also gave up engine size; however, our goal was to make an adventure bike that would be most effective in all riding conditions and usable by riders with varying levels of experience. Other than that, we feel all we gave up was a bit of glamour (you can decide whether or not that is acceptable to you).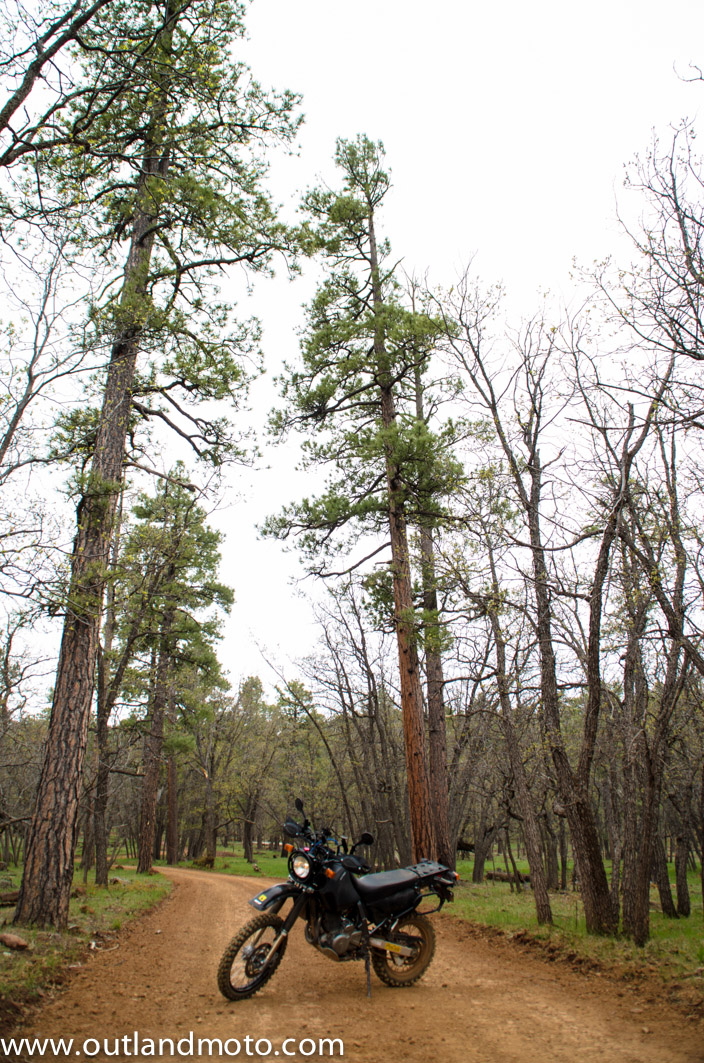 We started with a 2002 Suzuki DR650SE. Mileage at purchase was 3,106 and the purchase price was $2,800. The proceeding information will identify all accessories and modifications we added to the motorcycle and provide you with our total investment. Some of the additions were performance related and some were cosmetic. So you can decide which changes suit you and which do not. We received a great deal of advice from vendors and retailers during our modifications, and we want to thank them for their availability and patience.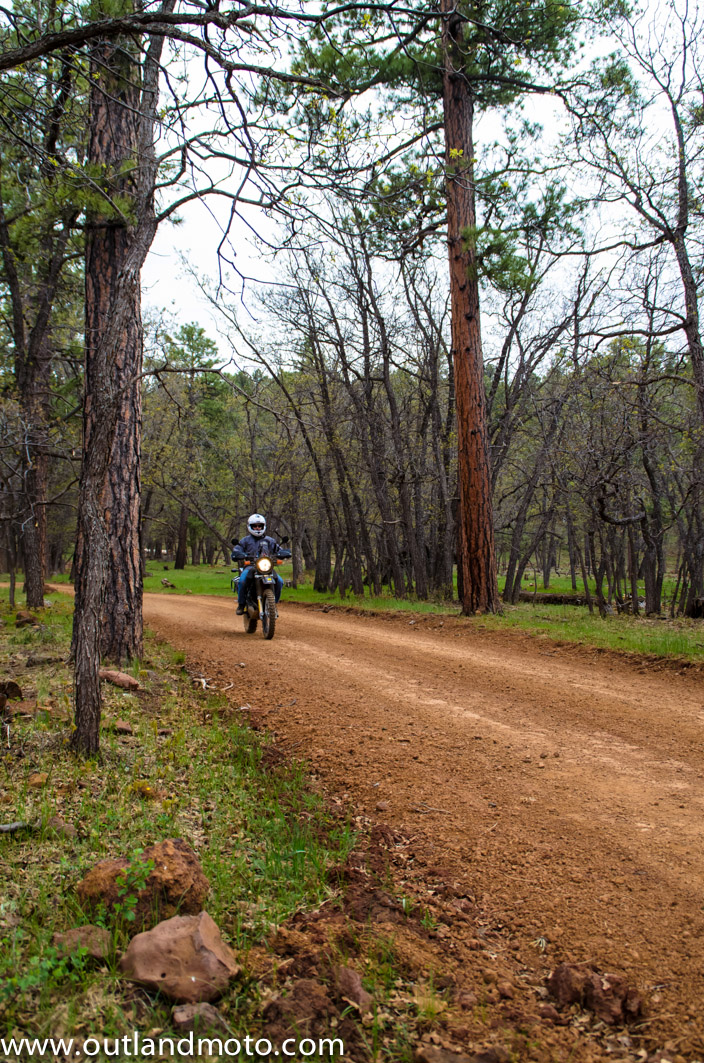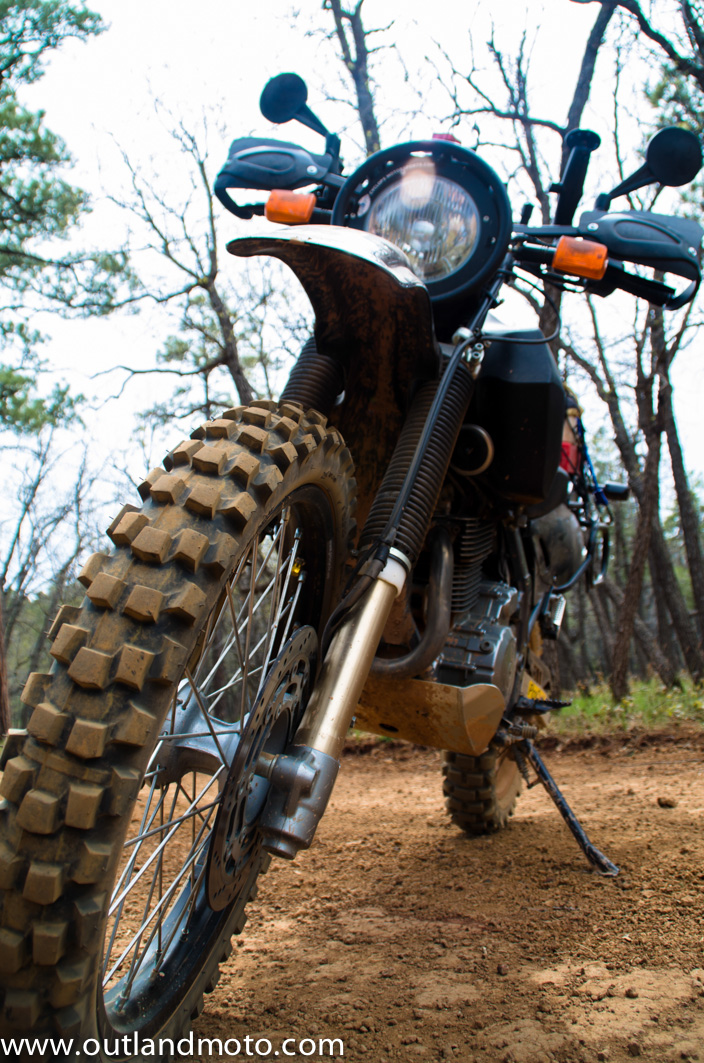 FUEL CAPACITY AND COCKPIT:
Our first step was to give the DR650 more fuel range so that it is comparable to the larger adventure class motorcycles. The DR650 comes stock with a 3.4 gallon (13 liter) steel fuel tank. We replaced this with an Acerbis 5.3 fuel tank. It holds more fuel, adding more weight to the front of the bike. However, this is countered by the lightweight material used for the tank. This gives the DR650 a range of around 250 miles (depending on your riding style).
We also changed the seat, adding a Corbin seat to the bike. This seat is wider than the stock seat, which may be noticeable on rough terrain. But it gave the DR increased comfort for long days in the saddle.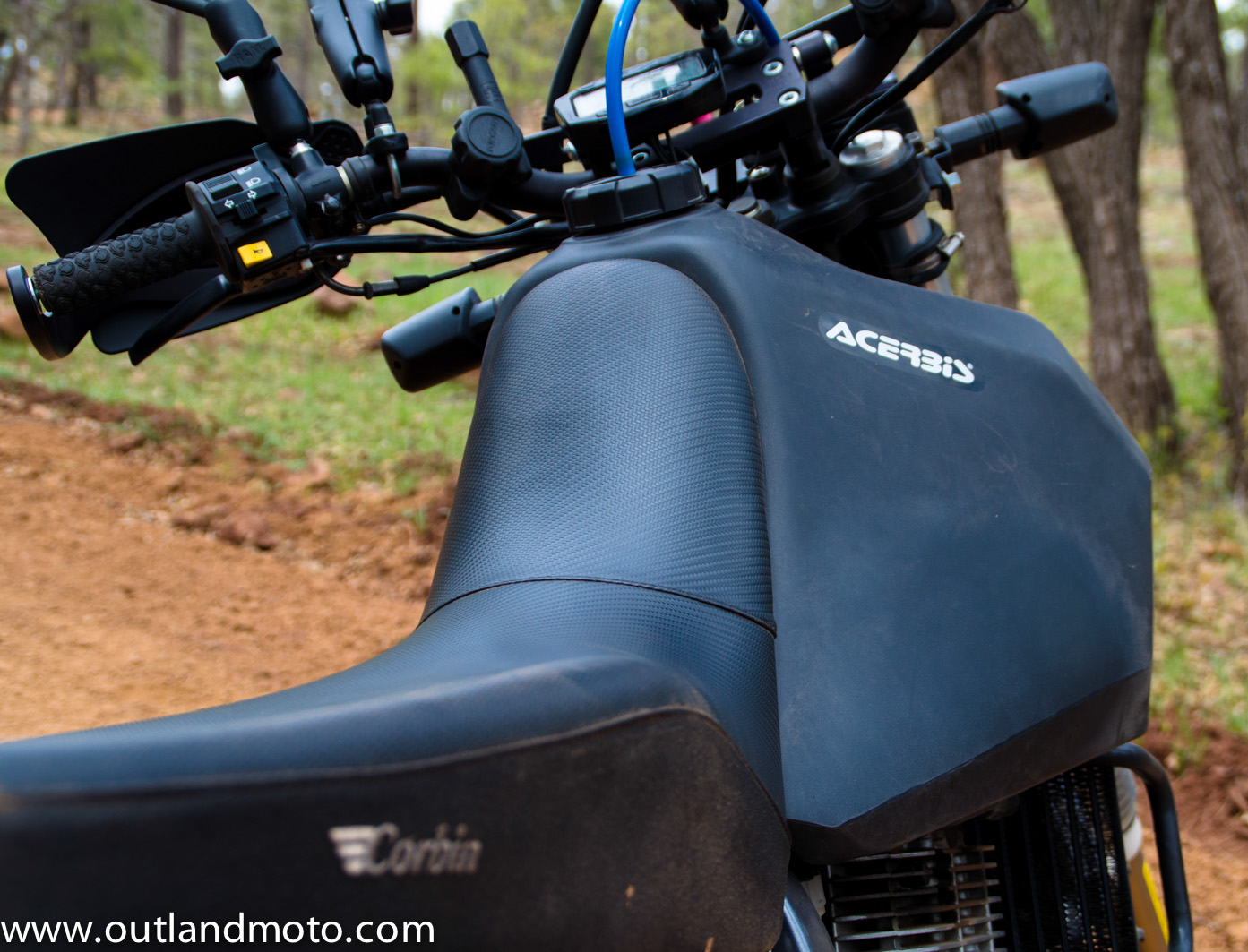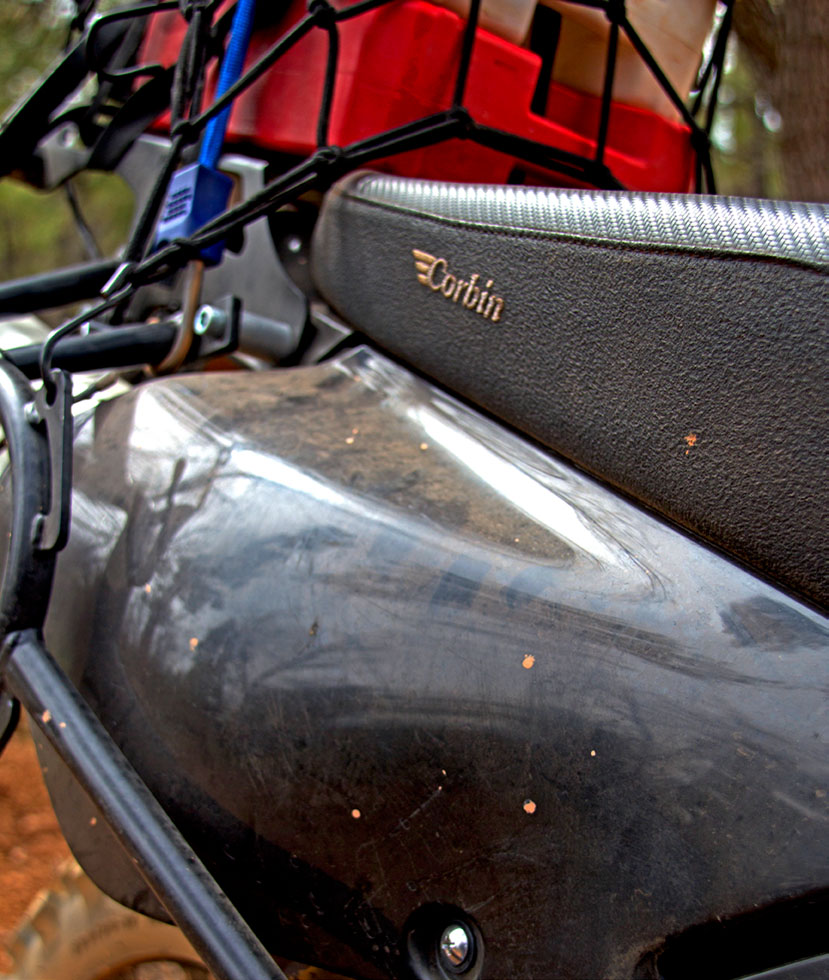 We replaced the controls on the DR650, adding the following items:
Renthal FatBar Handlebars

HDB Top Clamp

HDB Billet Handguards

Doubletake Mirrors w/ 3" Arms

Trail Tech Vapor Speedometer/Tachometer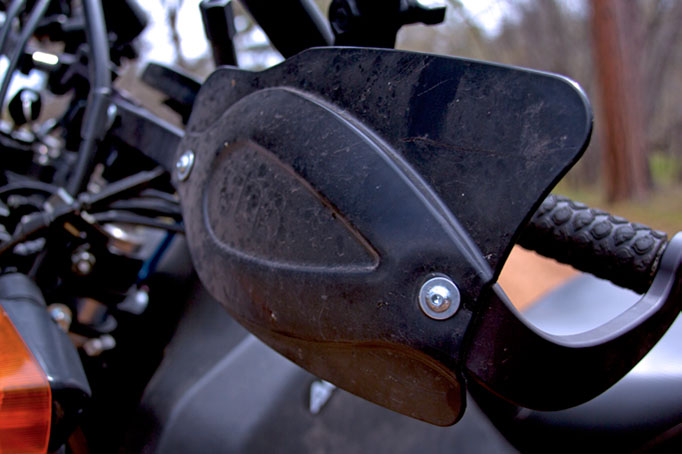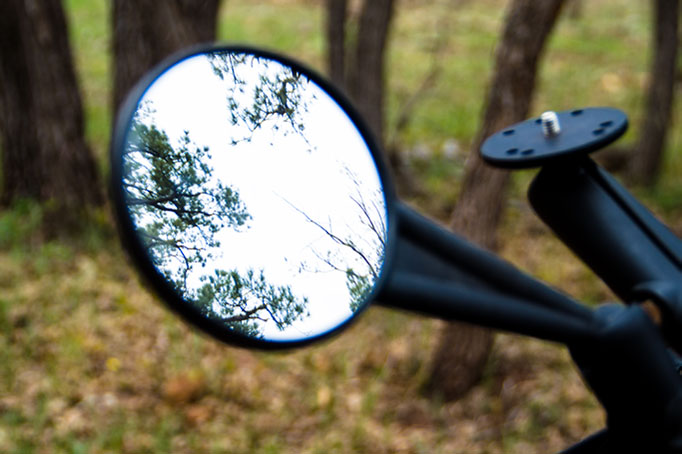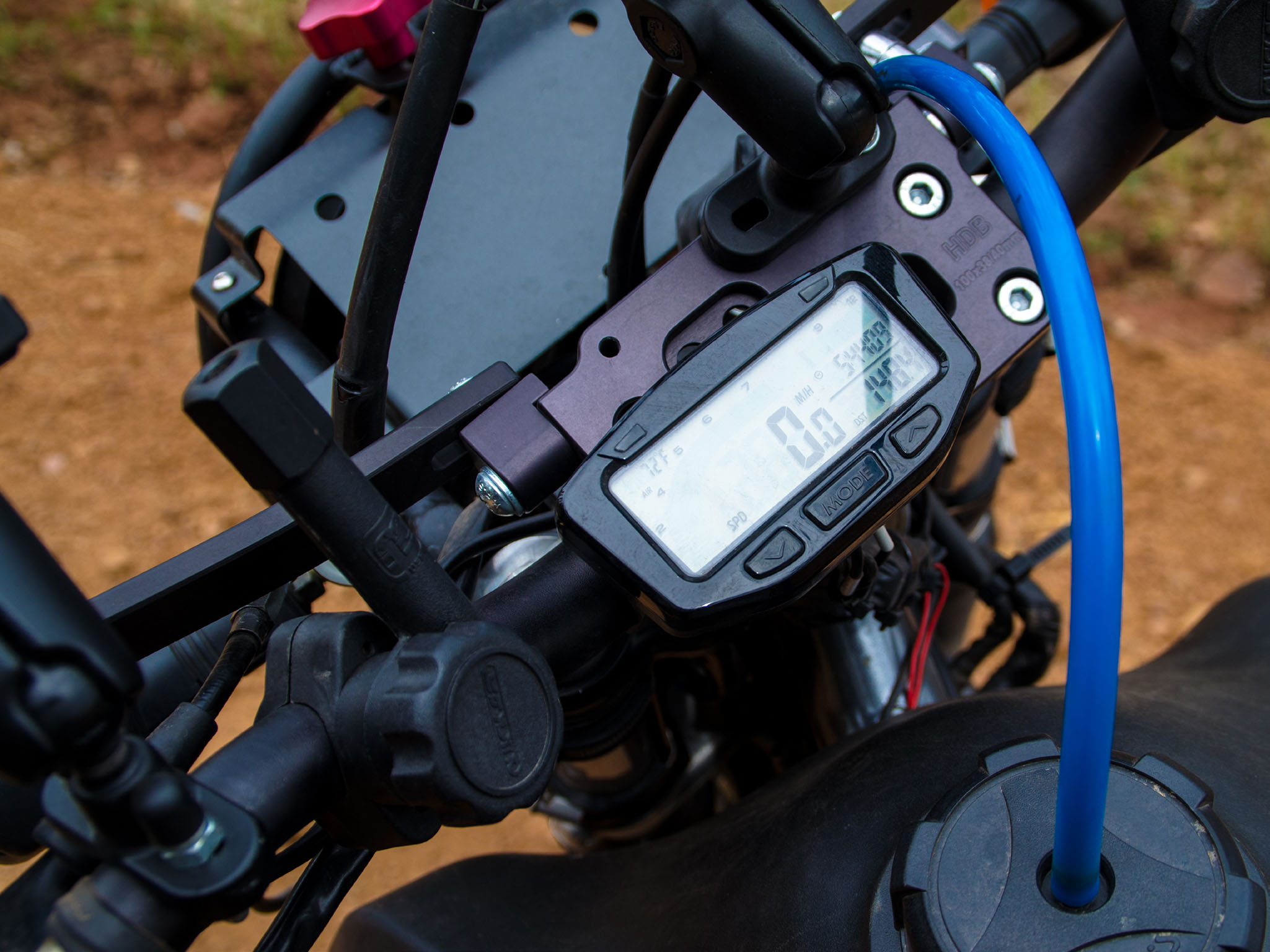 We considered the varying types of terrain the adventure rider travels, along with the payload he/she takes with them when we were outfitting the DR650, which leads us to our next step.
WHEELS & SUSPENSION
To stiffen up the ride and give the DR650 better ability to carry heavy loads, we upgraded the front and rear springs. We replaced the stock rear spring with a Procycle 8.3kg/mm spring, rated for 250+ pound loads (including rider). We placed .55 Race Tech straight rate springs in the front forks to better match the rear spring.
We also felt an extra set of wheels with more aggressive tires was a good option. We went with the Sun Rims with stock hubs and mounted a set of Dunlop D606 tires on them. We kept the stock wheels, mounting 80/20 tires on them.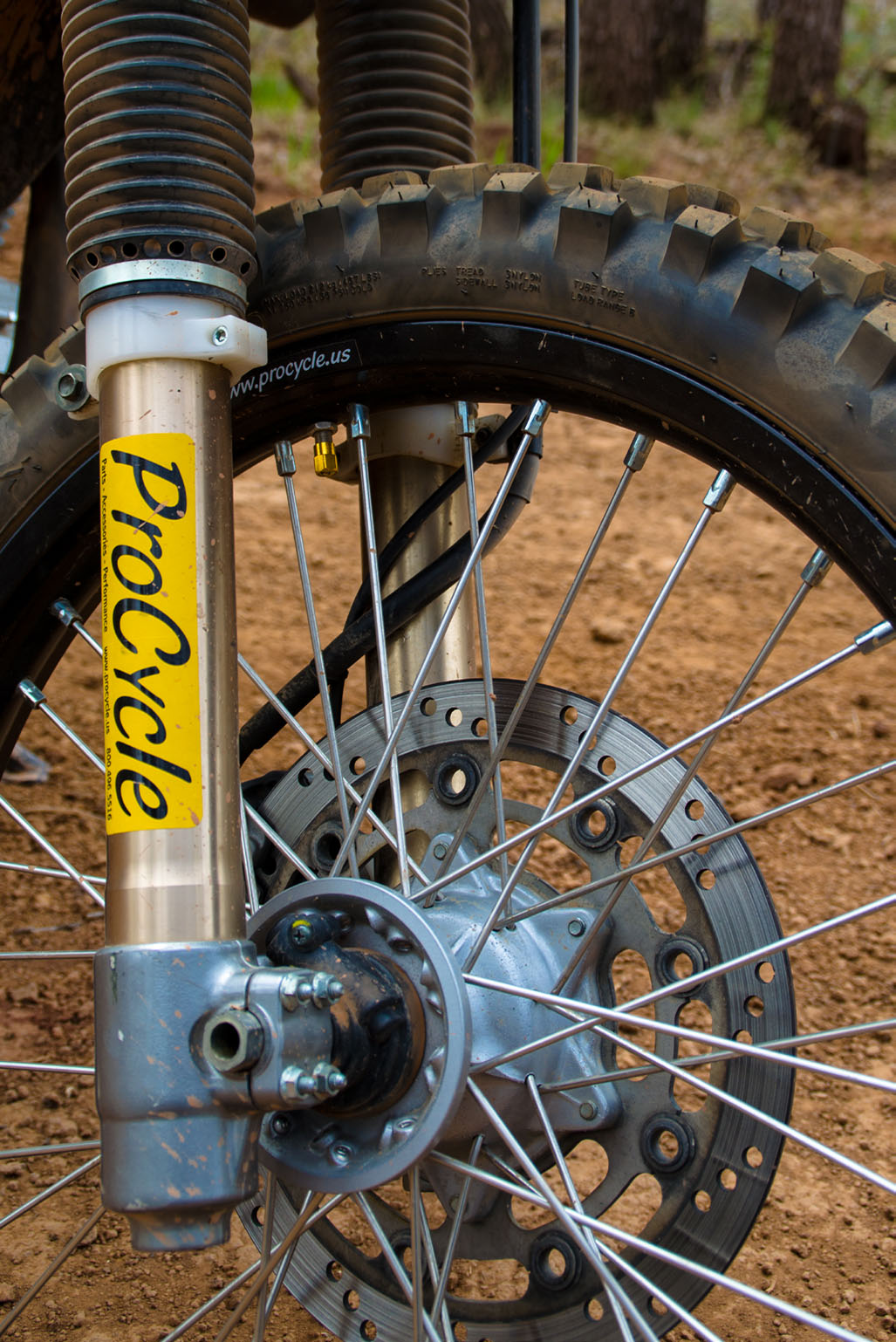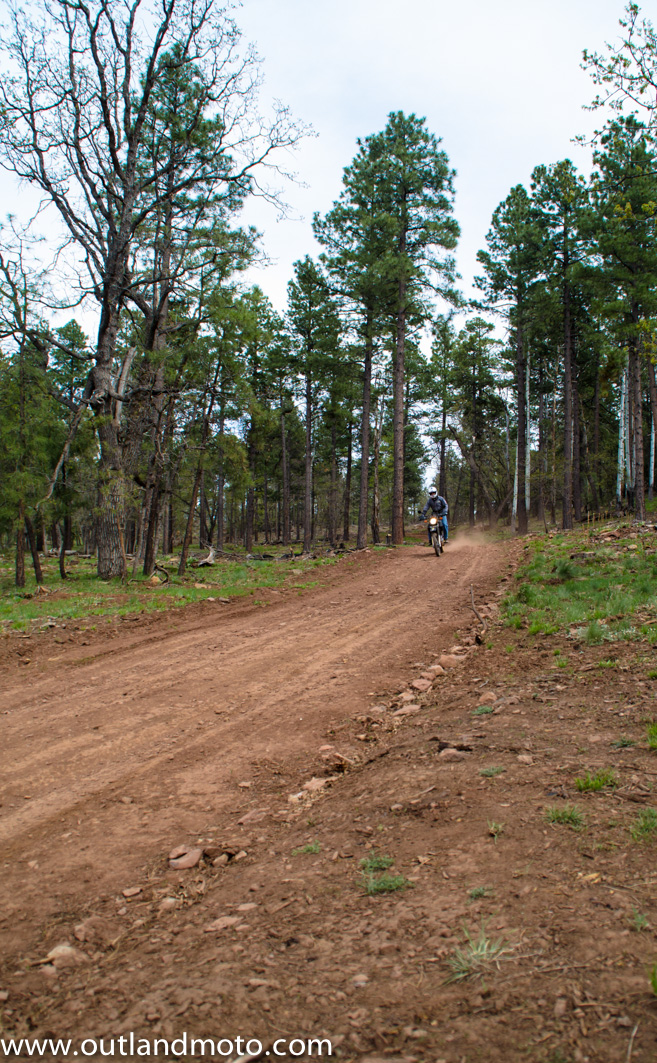 We discarded the stock headlight and number plate, replacing it with an 8-inch rally light from Cyclops Adventure Sports. This gave us more light on the road.
This light contained an H4 halogen bulb in it, making it street legal. An HID version is also available. Though the HID version will provide you will much more light than our H4 version, it is NOT DOT approved.
For wind protection, we used the National Cycle Deflector Screen DX (not shown here). It kept the wind off our chest yet was out of the way.
For hauling luggage, we went with side racks and rear top rack from Wolfman Motorcycle Luggage. The side racks integrate into the Wolfman Expedition Dry Saddle Bags seamlessly, keeping cargo weight down, and your gear dry. The rear top rack provides a nice, flat platform for duffles or extra fuel and water.
We also replaced the stock rear taillight with a DR250 taillight, which fits perfectly in the DR650's taillight location.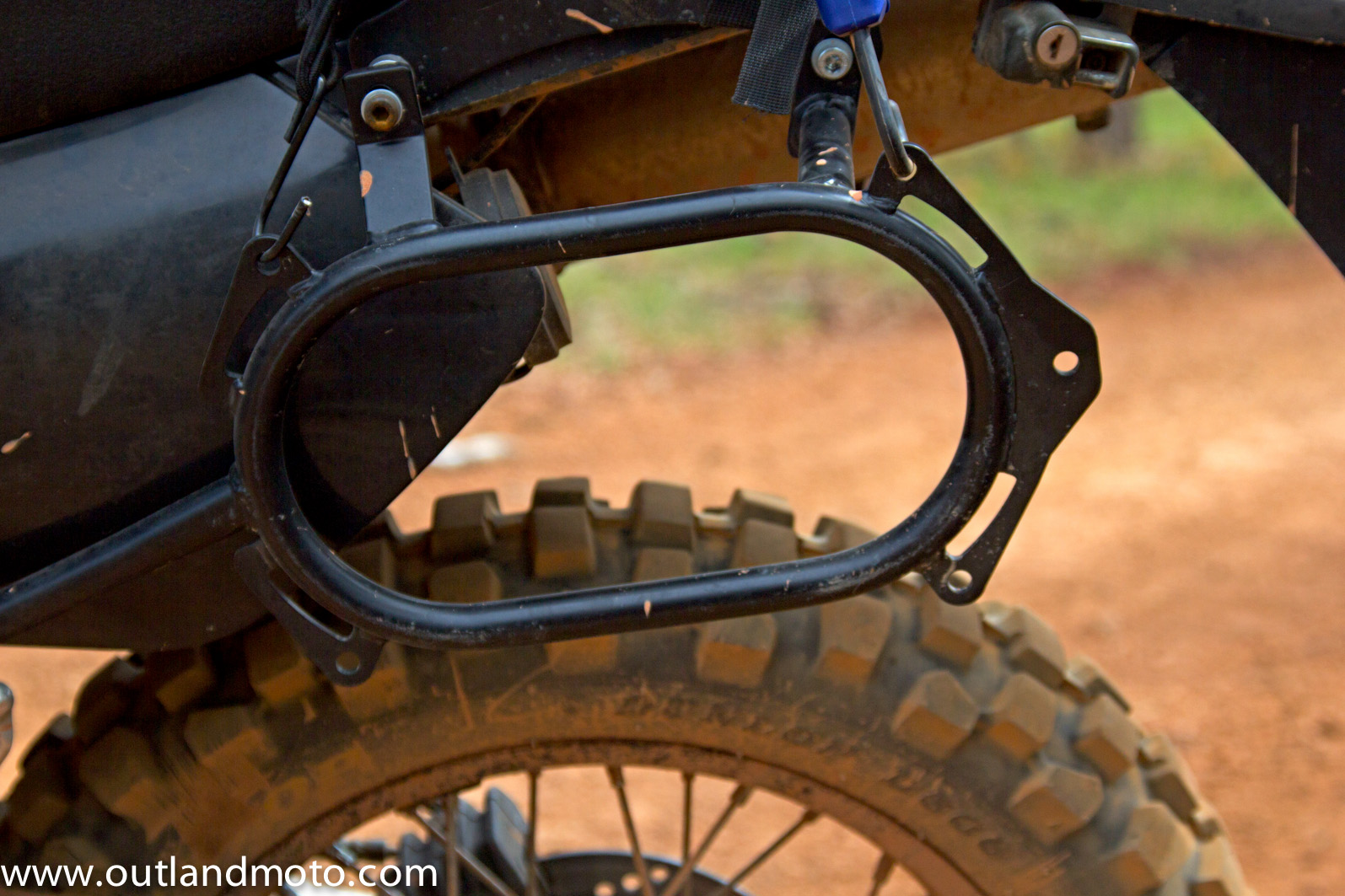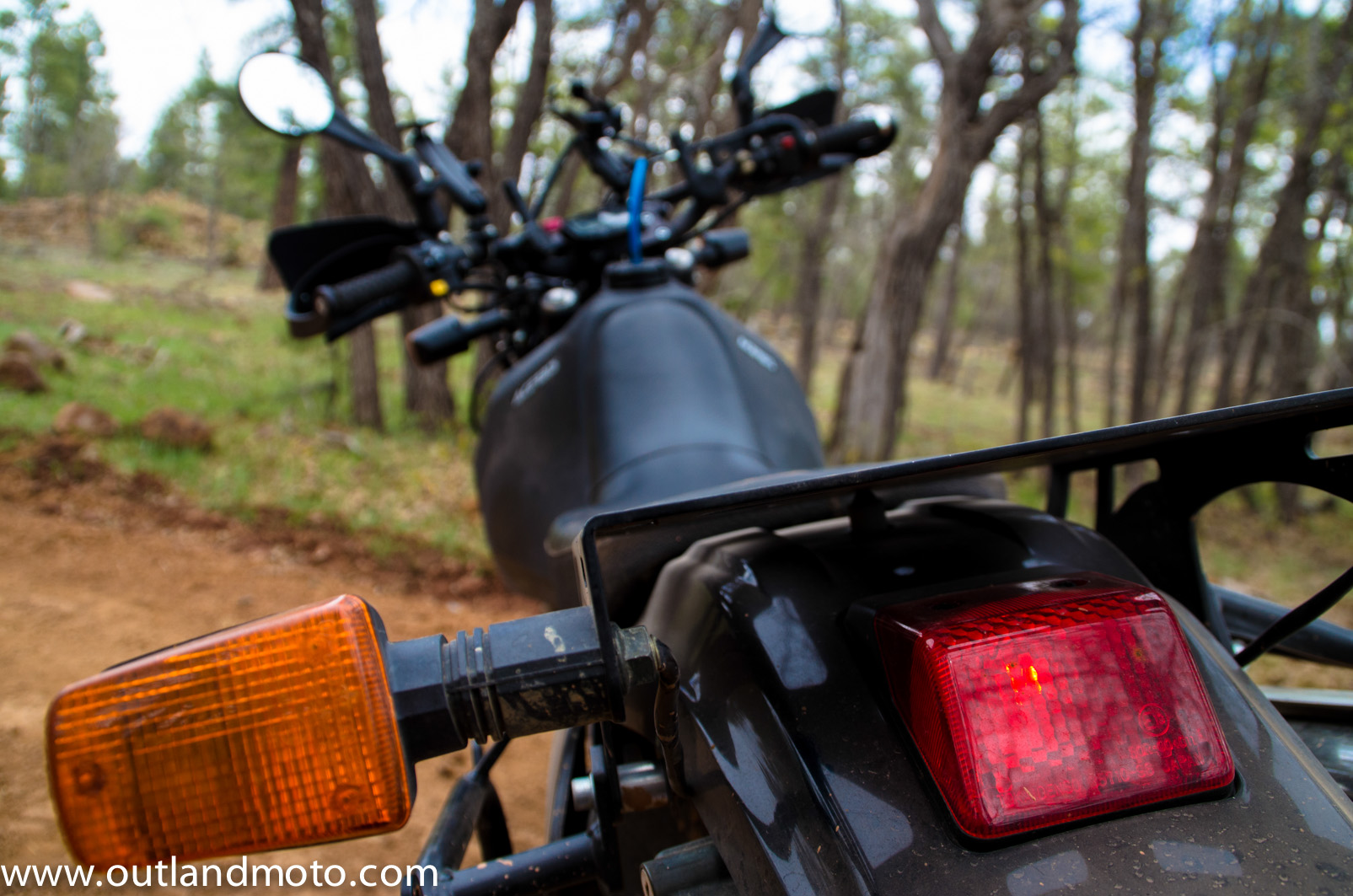 PERFORMANCE ITEMS:
Along with the ergonomic and cosmetic changes we made to our DR650, we also made some changes to increase the performance of the bike. We wanted to generally increase its power and improve the throttle response from the stock settings. However, we did not want to get into tearing the engine completely apart (and were trying to keep our costs down). So we focused on more "quick fix" items. We achieved this by adding the following performance products.
– NGK IRIDIUM CR10EIX Spark Plugs
– Mikuni TM40 Pumper Carburetor Kit
– DT1 Triple Layer Air Filter
– 90-degree Small Fuel Filter
– Merge Racing Fuel Mixture Screw
Many more modifications were considered, such as a Big Bore 790cc Kit and Oversized Valves and Seats. But we wanted to provide a quick and inexpensive solution to the DR650 and this would have increased our budget by close to $1,000.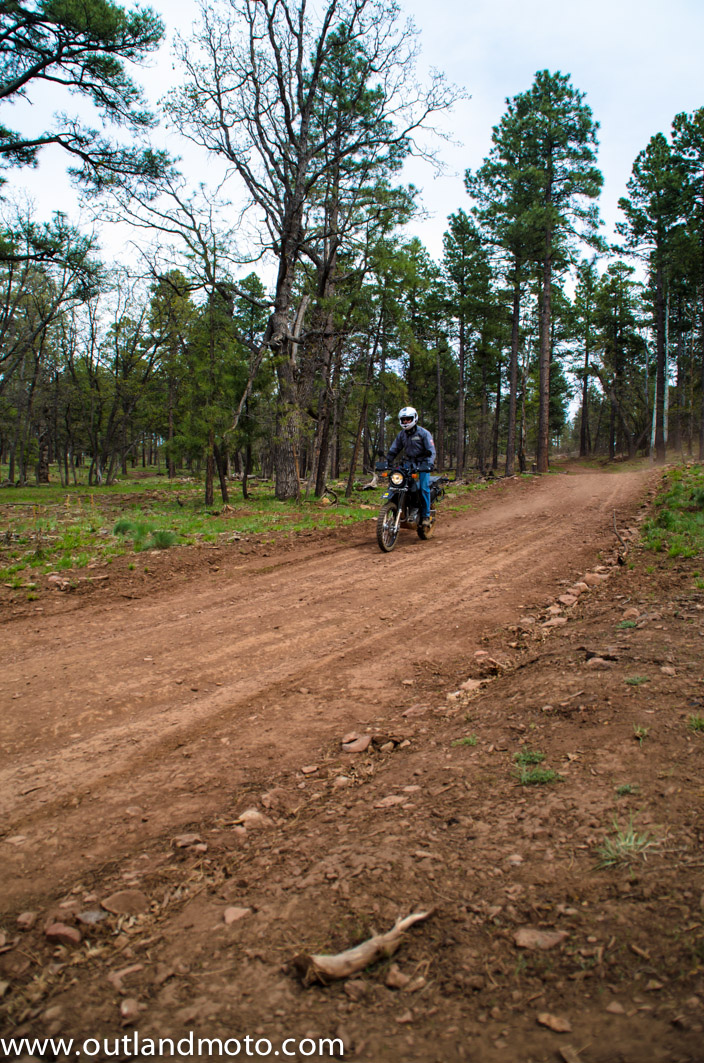 OUR TOTAL:
So how much did it cost us? Here is the final tally. Of course we could have continued to modify this motorcycle until the end of time. And the solutions we chose are not necessarily the solutions you may want or need. But the end result is a solid, versatile adventure bike ready to suit the needs of today's adventure traveler.
| | |
| --- | --- |
| Suzuki DR650SE | $2,800.00 |
| COSMETIC/ERGONOMIC | |
| Acerbis 5.3 gallon fuel tank | $269.00 |
| Corbin Sear | $369.00 |
| HDB Billet Handguards & Top Clamp | $149.00 |
| Renthal Fatbar Handlebars | $110.00 |
| Sun Rims (complete) | $1,460.00 |
| Dunlop D606 Tires | $184.98 |
| H4 Rally Headlight | $425.95 |
| Deflector Screen DX | $149.95 |
| Side Racks | $224.99 |
| Top Racks | $124.99 |
| DR250 Taillight | $57.95 |
| PERFORMANCE/ENGINE | |
| NGK Iridium CR10EIX Spark Plugs | $23.95 |
| Mikuni TM40 Pumper Carburetor Kit | $449.95 |
| DT1 Triple Layer Air Filter | $29.95 |
| 90-degree Small Fuel Filter | $3.95 |
| Merge Racing Fuel Mixture Screw | $22.95 |
| SUSPENSION | |
| .55 Race Tech Straight Rate Springs | $115.95 |
| 8.3 kg/mm Rear Shock Spring | $126.95 |
| TOTAL COST (BIKE AND MODS) | $7,311.50** |
** PRICES DO NOT INCLUDE TAX AND SHIPPING COSTS, WHICH WILL VARY DEPENDING ON YOUR LOCATION.
OUR WISHLIST:
ITEMS AVAILABLE at www.ProCycle.us
Big Bore 790cc Kit

Warp 9 Billet Chain Guide

Web Cams Performance Camshaft

Ball Bearing Chain Roller

Superbrace Fork Brace

WER Steering Dampener

Engine Case Armor Plating

Rear Master Cylinder Guard

Front Fender Brace

IMS Super Sport Footpegs

Quick Throttle Tube
~end